March 16, 2013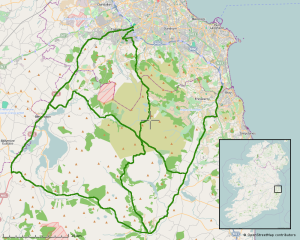 Date: August 2011
Time spent: One afternoon
Immediately to the south of Dublin yet almost unknown to its inhabitants, are the Wicklow Hills. Steep hills enclose a large area of raised desolate bogland.
The northern section of the Wicklow hills stretching from Laragh in the south, to Tallaght at its northern fringe, and between the N81 and N11 national roads, is almost entirely unpopulated. Two roads cross the area, the R759 and R115 – otherwise known as Military Road, constructed after the 1798 uprising in Wexford for strategic reasons and maintained ever since but only as a small backroad.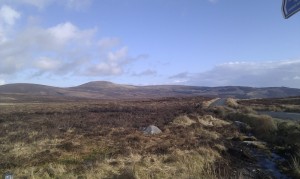 The centre point of the area is where the R115 and R759 intersect at Sally Gap. There is nothing here, just bogs in an apocalyptic landscape.
Most of the roads over the hills are narrow but two-lane. However the road between Sally Gap and Laragh is over 20km long and at best 1½ car widths at its widest section. The surface is lumpy like being at sea, but mostly free from pot-holes. We don't tend to see many sports bikes on this section but it is one of my favourite roads.
Other road users are mainly extreme cyclists and sight-seeing motorists, both easily passed. The sedate car drivers are often surprised to find themselves overtaken on such narrow rural roads.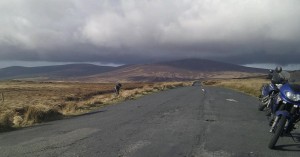 The café in Laragh makes for a good coffee break. Sat outside with the cyclists, I almost feel sorry for them as it looks like bloody hard work without an engine.
Right beside Laragh is Glendalough, something for the coach tours. Between here and the N81 near Blessington is the Wicklow Gap – a far smoother and faster road than that encountered in the bogland.
Heading out to the south of Laragh, it is on to the back-roads again. Take the first right turn after leaving Laragh, on to the L2083 and into the hilly forests.
We're still covering new ground in the area, there are many minor roads scattered around these hills.