June 10, 2017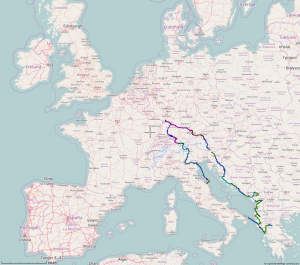 Date: September 2015
Duration: 3 Weeks
Countries visited: Germany, Switzerland, Liechtenstein, Austria, Italy, Greece, Albania, Montenegro, Croatia, Bosnia, Slovenia
During our first trip to the Balkans in 2012, we found ourselves heading south from Montenegro through Kosovo and then on to Macedonia. When I was stood looking out over lake Ohrid from the Roman Amphitheater on the hill in Ohrid, I said that we should return and visit the once isolated country on the other side of the lake, Albania.
We begin our journey in southern Germany. Riding from there via Lake Constance/Bodensee and the Alps, to where we plan to catch the Anek ferry from Venice to Igoumenitsa in Greece. From Greece we will ride back home to Germany.
There are two ferries per week from Venice to Igoumenitsa. We have booked a voyage on a Tuesday morning. Leaving Germany on a Saturday morning, we have three leisurely days to make our way to Venice.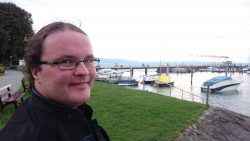 Our first day's ride gets us to a stone's throw of Austria and Switzerland, staying a few kilometres from Lindua on the shore of Lake Constance. The following day we travel through five countries (Germany, Switzerland, Liechenstein, Austria and Italy) to where we have accommodation booked in Meran/Merano, Süd Tirol, Italy.
Fortunately the bad weather in the Alps cleared up by the time we crossed the border into Italy. We were forced to take the low mountain pass, B180 south of Landeck in Austria due to rain and poor visibility – a useful route to remember when one needs to cross the Alps in bad weather. It's a pass heading towards Italy and sandwiched between the Austrian and Swiss border.
From Meran/Merano we spend the day on the italian motorways, heading for Padua – 30 minutes from the port near Venice. Both Meran/Merano and Padua were deliberately chosen, and we had booked accommodation in advance. Scenic old cities, each worthy of a daytrip.
Ferry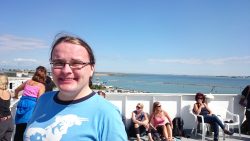 It takes 26 hours to sail from Venice to Igoumenitsa, calling in to a few other italian ports along the way. Unlike overnight ferry crossings between Ireland, Britain and the European mainland, no cabin is required. Consequently there are large numbers of people camped out on deck, in the lounges and even on inflatable beds in the stairwells. It is quite a strange sight to see.
We fortunately can rest in our 2-bed en-suite cabin, and we're thankful for that opportunity.
Greece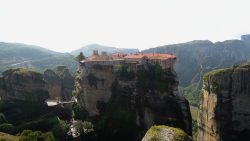 Over a day later, a few degrees warmer and within sight of Albania we arrive into port in Greece. As both Italy and Greece are members of the Schengen zone there are no passport controls to delay us. We ride straight off the boat, into the bright sunshine and onto the Greek highway.
Greece is not the destination, but while passing through there are certainly a few places worth visiting. We spend our first night in Preveza, on the Aegean coast.
Preveza is quite obviously a regular tourist hotspot. The city centre and promenade are full of restaurants and souvenir shops but there are very few tourists. Our visit is only a few weeks after a low point in the Greek financial crisis when ATM withdrawals were limited to €60 per day. Tourism appears to have been badly hit as a result.
An easy going day's ride from Preveza is the UNESCO site of Meteora. Sat above the nearby town of Kalambaka are several still active monasteries perched on rocks that look like giant pedestals.
Thanks to EU development funding, Greece like Ireland has been building new motorways. The main road from Ioannina to Kalambaka is now a 2 lane motorway through numerous tunnels. The old more enjoyable road is now a rock strewn highway, snaking its way over several passes almost entirely deserted of traffic.
Eventually what little traffic there is is forced onto the new motorway. From riding in bright sunlight we emerge from one tunnel into rain and mist with only a few metres of visibility. For the next 20km we slowly follow the tail lights of the traffic in front.
Albania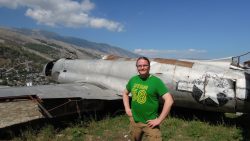 A Stalinist country until the mid-1980s and the main focus of our trip, Albania is still Europe's poor mountainous backwater. It's 1½ times the size of Wales, yet much harder to travel around and with about the same number of people (3 million).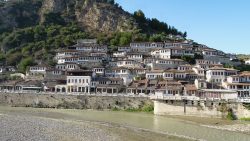 The infrastructure is slowly improving thanks to development funds from the EU. Despite this many roads have not yet been paved with tarmac – this includes convenient secondary roads like SH74 and the national route SH20.
Starting from Greece our plan is to slowly head north, and then finally cross over into Montenegro. Along the way we visit some of Albania's most famous tourist sites. This includes the Roman site of Butrint, the cities of Gjirokastër and Berat – both awarded UNESCO World Heritage status, Enver Hoxha Pyramaid in Tirana and rural roads in the Albanian Alps.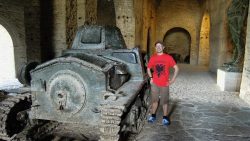 Our stay in Albania lasted for six nights. Our main write-up is here. It's a beautiful country with genuinely friendly people and is a very much underrated tourist destination. Albania is probably one of the most adventurous countries in Europe to visit.
Montenegro
Arriving from Albania on the unpaved road through the mountains, we're back in Montenegro for a second time and not far from where we traveled before.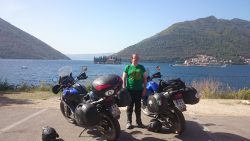 After a couple of hours riding, we arrive back in Kolašin where we stayed during our 2012 trip. Faced with the choice of riding on to Kotor and reaching it late in the evening, we decide to stay once again in Kolašin. This time at the recently reopened large hotel (it was closed, locked and bolted three years previously).
For the 3rd time, we ride the main road along the side of a canyon to Podgorica. We travel straight through the capital baking in the summer heat, to Kotor on the coast – possibly Montenegro's most scenic and old city. We have arrived at lunchtime, with the intention of sight-seeing around this Venetian city (although the original city is much older).
Croatia
Retracing our 2012 trip but in reverse, we arrive back in Dubrovnik. This time we intend to stay much longer than a couple of hours like we did previously.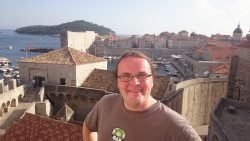 Our rough travel plan has resulted in us arriving in Dubrovnik on a Saturday, and as a rule we do not ride on Sundays. We therefore seek out accommodation for two nights. After knocking on a few doors of B&Bs and various landlords making phone calls to their friends, we have somewhere to stay with a garage for the bikes.
Dubrovnik is everything I expected. Old, scenic, interesting and full of tourists, but yet still a splendid place to visit. While wandering the old fortified town, we stumbled upon a photography exhibition spread over two floors. One floor featuring photos from the siege during the Yugoslav wars of the 1990s, the other displaying photos from the equally if not more horrific war in Central African Republic. It's shocking to find the Yugoslav war photos the more traumatic of the two, perhaps a sign of one's own innate racial prejudice.
From war photos to abandoned military sites, we head north along the coast on a particularly windy day. At times treacherous crossing the mountains on the exposed motorway. We reduce speed and brace ourselves while paying for the privilege through tolls.
Progress is good and we arrive in Jezera National Park during the late afternoon.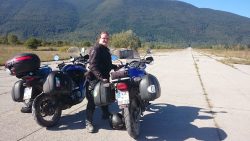 The national park is scenic as you would expect, but the main reason for our visit lies straddling the border with Bosnia a few kilometres away. Željava Airbase was built during the cold war when Yugoslavia was just one country.
Several kilometres of runway fan out from the base of the mountain. The aircraft hangers are inside the mountain, in a large underground cave complex.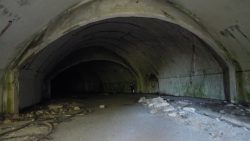 The site is now abandoned and surrounded by minefields.
From Jezera National Park the nearest large roads only traverse from west to east, however we want to go north. We take the slower and most likely more entertaining back-roads, on the direct route to Slovenia.
Slovenia
Running low on petrol a few kilometres short of the Croatian/Slovenian border, I ask the SatNav for directions to the nearest petrol station. After arriving at a few long-closed down petrol stations, it finally directs us to one just across the border in Slovenia.
We're fortunate as just after we buy fuel and vignettes, the attendant closes up shop – we do not see another petrol station for quite a while and would surely have run out of fuel.
When Yugoslavia broke up, the war in Slovenia lasted just a few days as it was logistically impossible for Serbia to fight against both Croatia and Slovenia at the same time. It should come as no surprise that Slovenia now exhibits more signs of wealth and prosperity. The country is not just an EU member, but also part of the Eurozone and Schengen.
The roads are wide and of good quality, as they pass through the forests largely deserted of any other vehicles. Not until we meet the motorway when approaching Ljubljana the capital, do we encounter many other road users.
Ljubljana is rather small for a capital city, but then Slovenia is also small. Our SatNav directs us to a hotel we had shortlisted, but unfortunately they're full. The hotel around the corner is also fully booked, and the concierge informs me that there is a large conference in the city and most hotels will be full. He is though incredibly helpful, and phones a friend who runs a hostel in the very centre of the city – they have just two rooms free and a small yard where we can park the bikes.
It's a lucky find, as the hostel is right beside the river in the old part of town. We could not have been better located. Much of the city's architecture look as if it's from the 18th century and it is even now very presentable. We have dinner sat beside the river as our trip is drawing to a close.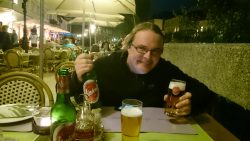 Our plan for the following day was to head to Bled, beside lake Bled and also not too far from the Austrian border. Unfortunately the weather has changed and it's not much fun by the lake when you're almost as wet as you would be if you were sat in it, so we head straight for Austria.
Austria
The refugee crisis of 2015 is in full swing and border controls have been reinstated when crossing into Austria. The only difference that makes for us, is a lot of traffic approaching the border. There is no requirement for us to show any documentation, as we obviously don't have any refugees on board.
It's almost lunchtime and we're rather wet, so we stop in the nearby town of Villach and decide not to go any further for the remainder of the day. There has been no letup in the rain and as the next part of our journey is to cross the alps, we think that waiting is the wisest decision.
It's late September and the local tourist information office has no problem finding us a reasonably priced hotel to stay in. The remainder of the afternoon is spent drying off and resting.
Villach is only 650km from home. I suggest to Rory that we can manage this in one day, as it's entirely on motorway.
We take the low mountain pass on the A10 towards Salzburg. The fact that it's low means that it is far less likely to be closed, but it's still very cold and there is snow on the ground in the fields beside the road. Stopping at a service station to refuel, I spend a good few minutes warming up my numb hands and then buying some under-gloves. Rory uses his heated grips!
As the German border approaches, the traffic starts to build up and slow down. The motorway is reduced to one lane, with all trucks being pulled over to check for refugees. We make slightly faster progress than the cars by using our hazard lights and riding between the lanes, only occasionally impeded by the odd Audi or BMW driver.
We finally cross back into the Federal German Republic and by early evening we're home.