November 22, 2015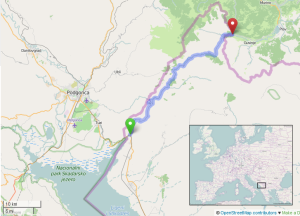 Date: September 2015
Distance: 60km (30km unpaved)
Time taken: 2½ hours
Development warning: there was a lot of construction traffic around, it would seem that SH20 is rapidly becoming a fully paved road.
Albania, previously closed off and still very different to the rest of Europe. It's one of the poorest countries in Europe, depending on how far east ones definition of Europe extends. Consequently its infrastructure still has a lot to be desired.
This low quality infrastructure includes hundreds of kilometres of unpaved roads. These are sometimes primary routes and often secondary roads. This fact alone should increase the appeal of Albania for the slightly more adventurous biker.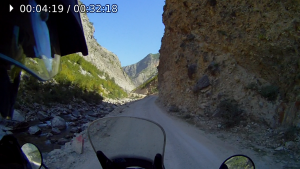 One of the more notable unpaved roads is SH20. This is the road that leads from Hani Hotit to one of the border crossings with Montenegro – near Vermosh, Albania and Gusinje, Montenegro, in the inland mountains.
This is a brilliant way to either enter or leave Albania – we took this road out of Albania. We were not asked for our Green Card when we crossed into Montenegro, although we did have one. The border crossing is small, and I am not sure if they have an insurance office for those who require it.
The route is not too busy, with only the occasional 4×4, truck and motorbike seen along the road.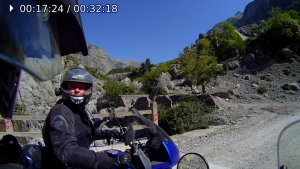 To reach Hani Hotit the start of SH20, you have to practically ride up to the border crossing on the road (SH1) to Podgorica, the Montegrin Capital. From Hani Hotit, SH20 is a very good quality new asphalt road for the first 30km. It is even good by western European standards. Progress should be rapid until Tamarë where the tarmac abruptly runs out.
The road becomes a single lane stone track. It is frequently used by cars and trucks, so the stones are compressed on both sides unless the road has recently been regraded. The first 10km from Tamarë and through Selcë is fairly trivial, even for inexperienced off-roaders like ourselves.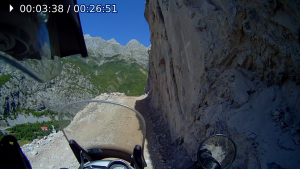 After Selcë, the road takes a turn through the more remote mountains. We were delayed for roughly 30 minutes while a section of the road, a tight corner around a cliff, was regraded in front of us. A digger was pushing rocks off the cliff above, and then coming down to level it off. It was still a tricky ride over the newly laid section.
Around the corner, I took a tumble while taking an uphill hairpin bend. Rushing to come to my assistance, Rory also dropped his bike. No harm done, except for Rory's bike being unable to start. After a few minutes a couple of bikers from Slovakia show up, and reckon that the bike's overheated. We wait another 30 minutes in the sunshine and 35° heat, until the bike finally starts.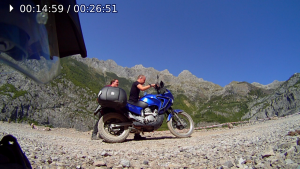 Proceeding on around another two hairpin bends, I encounter a gravelly incline. In hindsight my confidence had been shaken by the earlier fall and I was going far too slowly to maintain the necessary momentum. The bike slowed to a standstill before the rear started wheel-spinning, applying the front break did nothing, and the bike slide backwards down the slope and into the side of the cliff. The bike fell and I rolled off, free from the machine.
Rory and a truck driver, whose path I was blocking, came to my aid and gave me a push to overcome the loss of traction.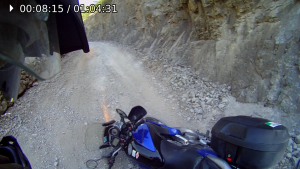 Confidence restored, I maintained a safer (faster) speed and kept up the momentum, stopping only on smooth-ish level sections to take a drink from the Camelbak.
A worry is that Rory would come off his bike (fairly likely given the conditions), and as I am leading I could carry on for a good distance not knowing of his distress. My mirrors are useless – not only are they a little bent out of position from twice dropping the bike, but there is too much dust being thrown up by my tyres and I am only concentrating on the road ahead of me. I asked Rory to press the push-to-talk button and say a brief acknowledgement over the radio whenever he gets to every easy section.
Rory kept well back due to all the dust that my bike was kicking up. The radio was our only form of contact, as he was usually well out of visual range even if I was to use my mirrors.
Keeping up the speed and momentum, progress is good along the remaining 20km. It's a very scenic and remote mountainous road. The slightly unbelievable aspect is the number of homes, villages and farms along the road.
Towards the end of SH20, we reach the turning to Vermosh. For a brief two or three kilometres we're back on tarmac before returning to gravel for about another kilometre, at which point we are at the exit border crossing to leave Albania.