April 7, 2016
Albania: SH74 – Berat to Këlcyrë
Date: September 2015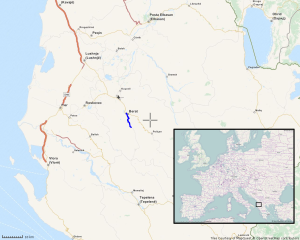 Albania features two cities which have been awarded UNESCO World Heritage status, Gjirokastër and Berat. Both are located in southern Albania and it would be highly recommended to include them in any tour of the country.
The most direct route between these two cities would bring you onto the road that is directly south of Berat, SH74. Google Maps misleadingly indicates that this road is a major route, however it is in fact a single-lane unpaved track for most of the 60km.
I only found one post on the internet about the quality of the road. Unfortunately there were few photos and she admits that the worst bits were not photographed. Hence the reason for this post, to provide a bit more information on the road.
Although we didn't have time to do the full 60km, we thought we would at least head south from Berat and see what it was like. We covered the northern-most 10km of the road, which was a mixture of mud and gravel.
Our friendly receptionist at the Hotel Muzaka, told us that many a visitor has journeyed up SH74 towards Berat not realising the poor quality of the road. Some were lucky enough not to completely ruin the wheels or suspension on their cars.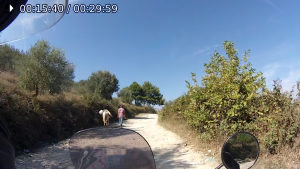 We managed an average speed of a little over 20km/h. Our bikes are Honda Transalps, which while having good tyres and dual-sport suspension are not dedicated off-road machines. They handled the road conditions fairly well, but I wouldn't want to be on anything less rugged.
As for a four-wheeled vehicle, it would be wisest to stick to a good 4×4 with a reasonable level of ground clearance.