October 7, 2013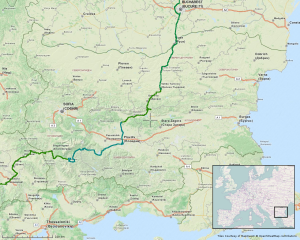 Date: September 2012
Duration: 5 days
Crossing over from Macedonia at 1,500m altitude, we return to the European Union and into Bulgaria one of the newest members. Our initial research indicated that even motorbikes require vignettes to use any major road, however the customs officials just wave us through.
We have crossed a timezone and lost an hour. It has taken us all day to cross Macedonia and the clock change has thrown us into the evening. During our research for the trip, we highlighted interesting towns, cities and sights. The nearest place worth staying is Bansko (Банско) 80km away.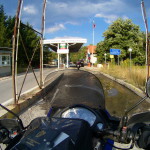 Leaving the border crossing road quality rapidly deteriorates, potholes everywhere.
In a little over an hour, we arrive in Bansko. Accommodation is found at a hotel nearby the centre, and it is ridiculously cheap (€25 for a double room). The receptionist speaks no English but a family checking-in offer up their daughter to translate.
Bansko is a tourist resort town, finding beer and pizza is not too difficult with plenty on offer. What is noticeable, is that outside the immediate town centre the street lighting is far more scarce than would be expected elsewhere in Europe.
From Bansko we plan to head to Hisarya (Хисаря), a pre-Roman and then a Roman spa town just north of Plodiv (Пловдив).
The route should be simple but Bulgaria appears to be undergoing a massive investment in infrastructure by the European Union, and many of the roads enroute are closed for roadworks. The sections of road works are 50-100km long with complete closure of the roads, which results in extremely long diversions on backroads through rural Bulgaria. Once finished the road network should be as good as Ireland's.
By early afternoon after spending all day on rural roads, we reach our planned destination. Hisarya is a popular destination with international and local tourists. Searching for accommodation I inquire with the tourist information, only to be informed that it is a 4-day bank holiday weekend in Bulgaria and we would be lucky to find anything.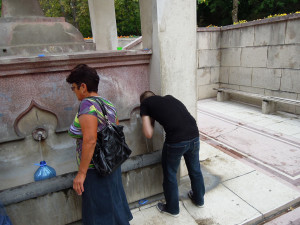 Approaching the finely dressed concierge standing in front of a rather fancy looking hotel, I ask if there are any rooms available. There is one room, a top-floor suite with separate lounge that has spa water pumped into the bathroom. All this luxury for just €90 and we are allowed to park the bikes inside the enclosed courtyard.
Observing that we have travelled from Ireland, the concierge remarks that one of his best friends is Irish and they bought a house nearby (presumably like many other western Europeans).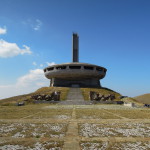 From Hisarya we continue on northwards and towards the Balkan Mountains (Стара планина). A range of mountains which run across the center of Bulgaria from east to west.
We are heading for Buzludzha, a communist monument built on top of a mountain. The monument looks as if it is the lair of an evil villian and features in the video below.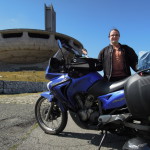 Since the fall of communism it has been abandoned and is falling apart. The doors are bolted shut and the access road is blocked off to cars – bikes can easily ride around the barrier.
After a brief stop to take photos and nibble on some food, we head down the other side of the mountain. We are aiming for Veliko Tarnova (Велико Търново) to stop for a couple of nights. It's an extremely old settlement, full of history, previously the capital of the second Bulgarian empire and currently an active university town.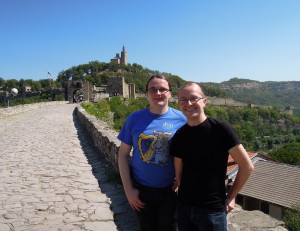 We take the Sunday off and wander up to see the medieval complex and castle on the hill above the old town. Much steeper than it looks but interesting to see.
There are still a few estate agents in the old town area advertising properties in English. One of them prominently featuring the banner "As featured on Channel 4" – are foreigners still buying homes in Bulgaria?
Eating breakfast on the morning when we're due to leave Veliko Tarnovo and head for Romania, I suddenly feel quite unwell and refuse to ride anywhere. Our room is available for another night, so we stay.
Requesting a doctor, the hotel receptionist says that we must go to the local hospital. The hospital is not far, but it is very grim – this is public health care in the poorest EU member state. Nobody speaks any English, the place is dark and looks like something from the past.
Returning to the hotel, demanding to see an English speaking Doctor and stating that we do not care how much it costs, the receptionist eventually contacts her manager.
It turns out that a private General Practioner is located ten metres away from the hotel. After a detailed examination, he indicates that I has a bacterial infection in the gut and will be fine tomorrow. A prescription is provided and the total service cost just €10.
Rory collects the drugs with names written in cyrillic and instructions given by the pharmacist in Bulgarian.
Feeling much better the next day, we set off for Romania.