January 11, 2020
Pridnestrovian Moldavian Republic
Date: September 2019
Duration: 2 days
Distance: 50km
Wedged between Moldova and Ukraine, only 30km wide in places, and recognised by no other country in the World, is the Pridnestrovian Moldavian Republic (Приднестровская Молдавская Республика) also known as Transnistria.
Internationally the area is considered part of Moldova, however on the ground it is a de facto country. The Pridnestrovian Moldavian Republic has its own military, police and currency. Moldova exercises very little control over the country, if any.
Important to note is the currency, the Pridnestrovian Ruble is not exchangeable outside of Pridnestrovie. I understand credit cards are rarely accepted anywhere, if at all. Fortunately every supermarket I visited had a bureau de change, where major currencies such as Dollar, Euro and Russian Ruble can be exchanged. I pay my hotel in Euro cash, receiving the change in Pridnestrovian Ruble.
My visit coincides with Pridnestrovian Independence Day, so I have pre-booked accommodation for two nights. The last time I booked anywhere in advance was for my night in Istanbul a few days earlier.
I am staying at Club City Hotel in Tiraspol, the capital city, a mere 5 minutes walk from 25 October Street (улица 25 Октября) which forms the main promenade through the city and is the location of tomorrow's military parade and carnival.
The hotel has only a dozen or so rooms, but it's new and has an executive feel to the place with its own upmarket restaurant on site and large comfortable rooms. My Euro goes a long way in this part of Europe!
As the Pridnestrovian Passport is not recognised outside of Pridnestrovie, it is not much use for travelling. The receptionist was explaining to me that while she has a Russian passport as do most in the state, she applied for a Moldovan passport so that she could travel within the Schengen zone of Europe without a visa.
It's the afternoon before Indepedence Day. 25 October Street has already been closed off to traffic and the setup is well underway. Tanks and other military hardware has been parked on a side-street, upon which children climb.
The city Tiraspol, is itself unbelievably clean and tidy. Those looking for a soviet-style crumbling grey city would be disappointed. The place feels modern and there are signs of money, even if it is russian money which as I understand is a likely scenario.
Independence Day – 2 September
The military parade starts at 9am and lasts for about an hour. Sadly no tanks driving along the streets, but lots of marching, saluting and military music.
Shortly after conclusion of the military parade, the carnival begins. All along 25 October Street there are musical performances, acrobatic acts, living statues, street performers and of course, food and drink. The carnival continues well into the afternoon.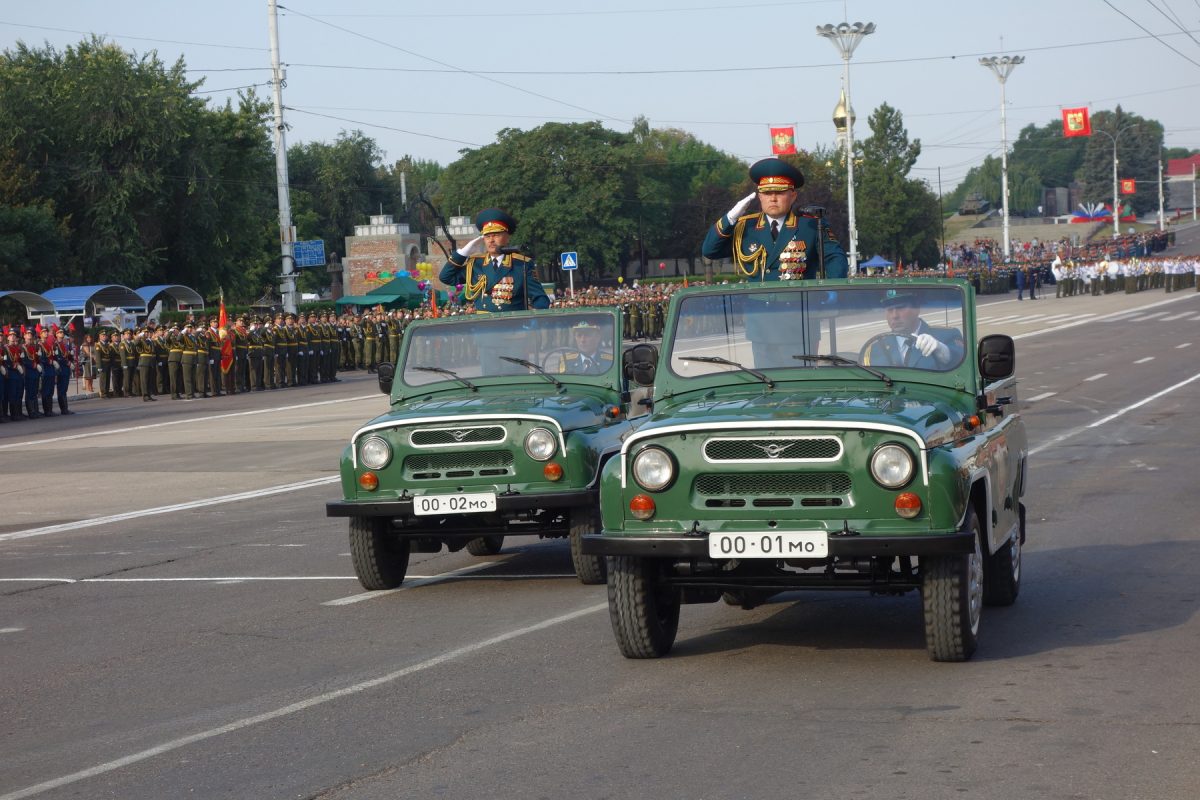 I find one stall and a shop selling tourist souvenirs. One can quickly conclude that Tiraspol doesn't receive too many tourists. Despite desperately wanting a t-shirt, they're only available in XL which would sit on me like a tent.
I do in fact bump into one small group of tourists, three guys on a tour. They seemed quite surprised that I rode across the border on my own and stayed in a hotel of my choosing. Do people think eastern Europe is like North Korea?
The evening is mainly filled with live music performances and fireworks. I observe a middle-aged man in the crowd waving two large flags; the pridnestrovian and russian flags – which tells you everything you need to know about national identity in Pridnestrovie.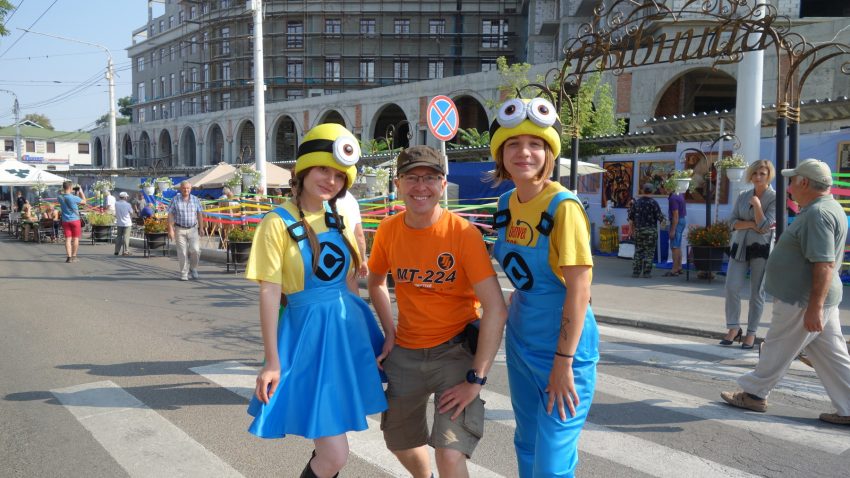 The following morning it's back on the road, onwards to Odessa (Оде́са) in Ukraine. I will return to the Black Sea coast, which I last saw two countries ago in Romania.
At the exit border, I am surprised to receive a Moldovan exit stamp in my passport.