April 16, 2018
Day tour in Alsace and Pfalz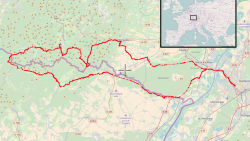 Distance: 150km
Duration: 3 hour, excluding lunch
We head across the Rhine from Karlsruhe and into Pfalz, where we soon leave the motorway and head south to France. We cross the border in the small town of Scheibenhardt which is split between the two countries, where we immediately head east, following the border on the French side until we hit the town of Wissembourg.
From Wissembourg we turn south and pick up the slightly bendy and forested road to the scenic small town of Lembach. Lembach's streets are lined with old timber houses, even more so that other towns in the area.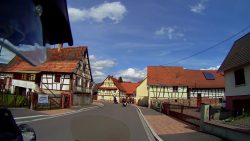 Taking a right in the centre of Lembach, back towards Germany but we instead follow the road parallel with the border in the direction of Bitche. After a few kilometres we turn off the mainroad and stop in La Bremendell for lunch.
Alongside the restaurant, which as one expects serves the local dish Flammkuchen, is a campsite and opposite a Weinkeller. This appears to be a popular lunchtime spot for bikers, who on a sunny lunchtime make up over half the customers.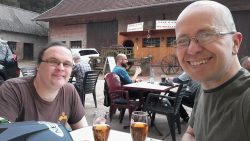 After lunch we carry along the single lane road on which lies the restaurant, as Germany and the town of Ludwigswinkel are just a few kilometers further on.
Our return back through the Palatinate Forest (Pfälzerwald) keeps us on the small quiet back-roads. We pass through fresh smelling forests on our way to and from Nothweiler. We then follow either large streams or small rivers around Bobenthal and eventually end up in Bad Bergzabern.
Skirting around Bad Bergzabern, we avoid the large roads and return towards the Maxau Rhine crossing via Schaidt and Bienwald back in the Rhine Valley.