March 11, 2018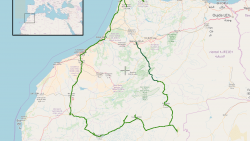 Date: October 2016
Duration: 10 days
Sailing from Algeciras on the southern tip of Spain, we make the two hour ferry crossing to Tanger. During the crossing we complete immigration controls on board. There are further controls once we arrive in the port, which we rapidly clear being the first vehicles off the boat.
There seem to be a lot of forms to fill out for bringing a vehicle into Morocco, compared to moving across non-EU European borders. It's slow progress but we make it through. Euro is exchanged for Moroccan Dirham and insurance purchased from a small office beyond passport control.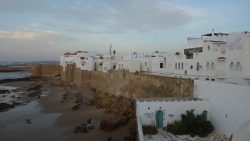 For our first night, we have a hostel booked in Assilah on the Atlantic coast which we reach in a couple of hours. including a short motorway ride.
I am using a Garmin Zumo 390 Satnav, which as standard only has maps for European countries. In preparation for the trip, I purchased maps for Morocco which seem mostly accurate and well worth the extra few quid.
Assilah is a small little coastal town, popular with tourists but fortunately not overrun by them. The Medina is right beside the shortline, small and hassle free.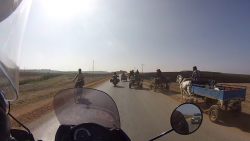 From Assilah we begin our first full day riding, careful not to refuel at a petrol station which the guy at the desk in the hostel says serves bad fuel. We plan to head to Meknès via Volubilis, the remains of an old Roman settlement.
We head across the hills and arid landscape on a backroad (R415). It's obviously market day as we approach Ksar-el-Kebir. A large amount of the traffic is horse-drawn carriages.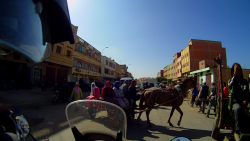 The route to Volubilis from the main highway is along a small dusty road through hilly farmland. Fortunately few other vehicles are seen. When we arrive at Volubilis, we notice that there's a large main road there from the other direction.
Volubilis itself is a large ruin. The Romans were here long before they ventured as far north as Britain. The area around the Mediterranean being far more important.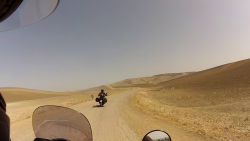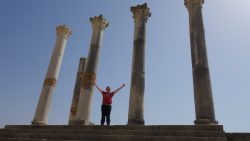 Meknès is like a little brother to nearby Fès. It's a little smaller and with far fewer tourists. The Medina is large enough to get lost in and mostly oriented towards local needs, probably a more authentic experience.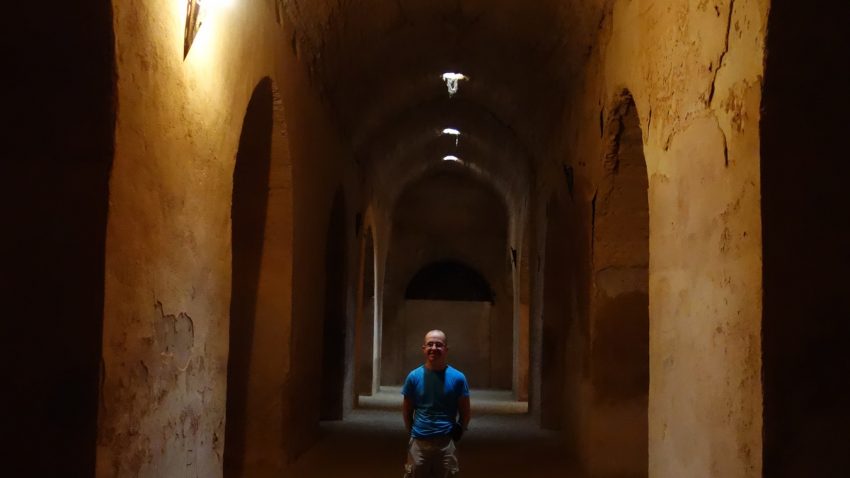 Our next destination is Erg Chebbi near Merzouga in the Sahara, which is a long day's ride over the Atlas mountains and across several hundred kilometres of arid landscapes. We decide to break the trip up with an overnight in Midelt.
This was fortunate, as somewhere on the road to Midelt my rear tyre developed a puncture which I didn't notice until the following morning. We were delayed by several hours and didn't arrive in Erg Chebbi until just before dinner time and about 30 minutes before a sand storm hit the settlement.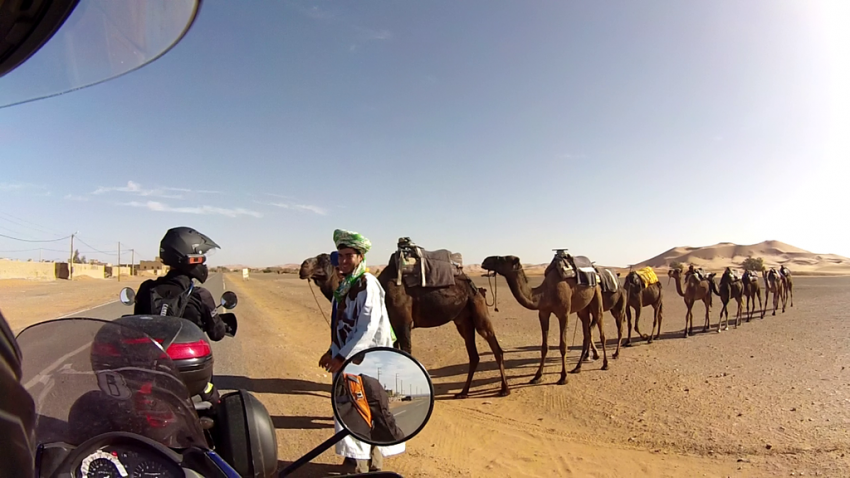 With my rear tyre still inflated the following morning, we head back north and turn off towards Dadès Gorge and the Todgha Gorge in the High Atlas mountains. The roads are wide, good quality and straight but with low speed limits.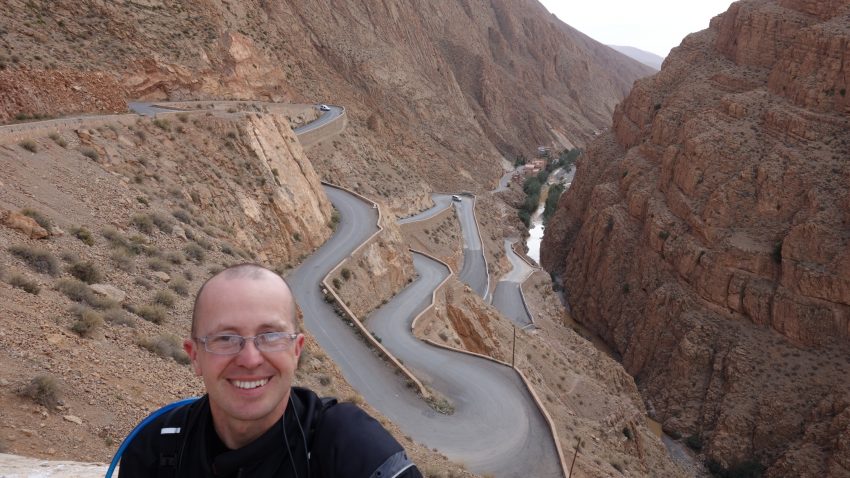 We spend the night in the small town of Boumalne, to the south of Dadès Gorge. There is little sign of tourism in the town, which we notice as soon as we ask if the hotel restaurant has any beer. We're told that the nearest beer can be found about 60km away.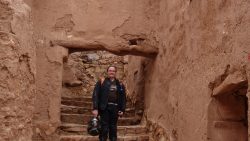 The plan for the following day is to ride to a UNESCO site well known by many film goers – Aït Benhaddou. The settlement on a hill is full of dwellings from the 10th century, but looks like it could be anywhere in 2000+ year old arabic lands.
After lunch at one of many restaurants setup for tourists, we head on towards Marrakesh.
My attitude to Moroccan speed limits soon results in us being pulled over by police. Fortunately I am able to pay the 'fine' to the police officer directly in cash and without having to do any paperwork.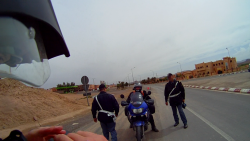 By the time we arrive in Marrakesh after traversing yet again the Atlas mountains, we have little time to explore. We have though spoiled ourselves with a stay at a 4* hotel.
From Marrakesh we spend a long day riding north back to Assilah and then on to the scenic Tétouan.
After 9 days in Morocco, it's feeling like time to return to Spain. In the same way that Britain has territory in the Spanish mainland, Spain has two territories in Morocco.
We aim to cross over the border into Ceuta. The border crossing is busy and the most chaotic I have ever seen. It's a hot day and we follow the mopeds filtering up the long lanes of cars.
The Moroccan authorities take an awful disliking to our helmet camaras. They search Rory's panniers while I stand there saying that they're just searching through dirty clothing. Eventually they believe what I'm saying and don't bother searching my bike.
After delays and much hassle we pass through the exit border from Morocco. The guard at the Spanish border waves us through without even a passport check. We are back in Spain, where Rory discovers that unlike in Morocco, it's now easier to find beer than it is to find a coffee.