August 11, 2013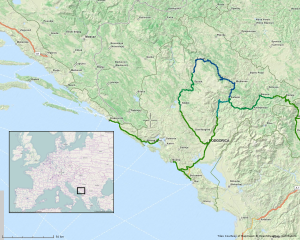 Date: August 2012
Duration: 4 days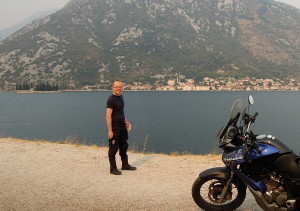 Straight from Croatia into the Bay of Kotor, and there is a nice breeze. The road from the border to the Bay is busy and slow with numerous resort complexes & developments scattered along the shoreline. You can drive around the bay itself to Kotor, which is heaving, accommodation seems to be both expensive and scarce. Which is a shame, as the city looks pretty and seems to have a mediæval centre. There's a large cruise ship docked.
A quick glance around and this area appears to be the Benidorm of the Balkans. Seemingly unrestricted large modern developments everywhere. This place seems designed for the typical package holiday, apparently frequented by Russians.
Not wanting to end up on an all-inclusive summer break, we head via the roasting capital city Podgorica, to the rural mountains. After riding 70km along the side of a rocky canyon without a town or village in sight, we arrive at Kolašin at an altitude of just over 1,000 meters. The local tourist information office tells us that the accomodation doesn't need air conditioning here, it doesn't get that hot! We stay in one of the numerous guesthouses. The proprietor doesn't speak a word of English.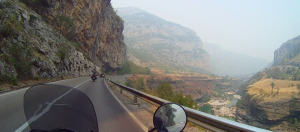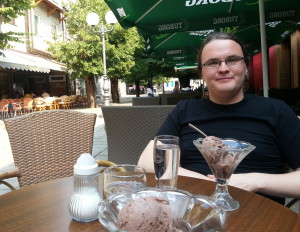 After one week on the road, we are due a day off to relax. There is not much to do up in the mountains of Montenegro, however it is cool and we have our Kindles for entertainment, and the local café has wifi.
Eating out during the 1st evening in Kolašin, we sample the local delicacies – Rory has the trout and I have the mashed potato with clotted cream. We also stumble on our first squat toilet.
The following day is spent with a ride along the Tara Canyon, and further up the mountains, to Žabljak. Returning towards Kolašin, we miss our turning and end up travelling half way across the country forcing us back via the Capital. Sometimes a SatNav would really be quite useful.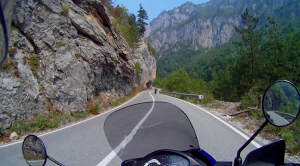 We have a few options on how to move on from Montenegro. We could head into Albania, taking either the border crossing on the other side of scorching Podgorica or an unpaved crossing not far from our current location. The unpaved crossing would involve riding for 50km on gravel roads through the Albanian mountains in temperatures above 30°C.
Alternatively we could go into Kosovo. There are two crossings from Montenegro, the closest one might be tarmac but the other one definitely is. The guy who owns the guesthouse where we are staying, speaks no English and no other language that we may have in common. We are still able to communicate well enough and he directs us to use the furthest crossing into Kosovo.
We were originally keen to try out some unpaved roads. These are however long gravel tracks through mountains and riding such roads is strenous, especially with these high temperatures. We therefore ride to Kosovo on a good quality tarmac road, even if it is a minor road through the mountainous forests with little other traffic.
The exit border out of Montenegro doesn't look much like a border, there isn't even a barrier. We ride for another 10km until we reach the Kosovan border crossing. At what point did we actually leave Montenegro and enter Kosovo, and have we officially left Montenegro?