March 16, 2013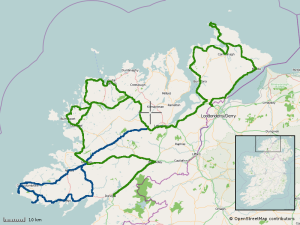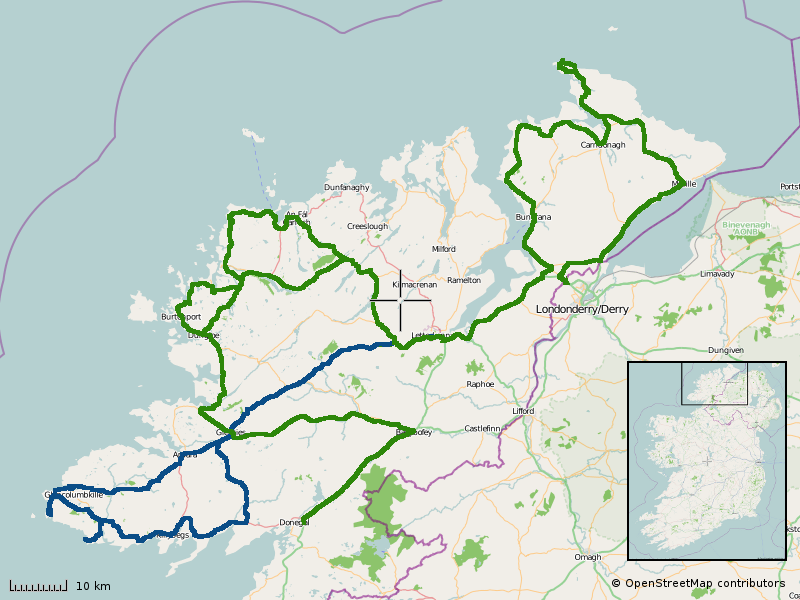 Date: July 2011
Time spent: 3 Days
Accommodation: Bed & Breakfast near Letterkenny
From Dublin it's a three to four hour ride to Muff, the start of the Inishowen Peninsula just over the border from Northern Ireland.
We took the Derry Road out of Dublin, soon renamed to the Londonderry Road when we left Monanghan and entered the North. Some towns en-route had helpfully corrected the signs back to 'Derry' using spray paint. Other towns were flying big massive Union Jacks – this was July, the marching season… best head straight through the North, no stopping!
The Inishowen Peninsula, the most northern part of the island of Ireland is possibly one of the most scenic and beautiful inhabitted areas of Donegal. Over the weekend we quickly learned that there are houses and developments almost everywhere. Head to the vast bogland to escape the littering of holiday homes.
Starting from Muff, a town which fails to capitalise on their name by selling novelty t-shirts, we ride the coast road north. Lunch in Moville and on to Malin Head – the northern tip of mainland Ireland. Even for July the roads are fairly quiet but yet interesting and scenic. Back down from Malin Head and there's a good few small mountains on the way towards Buncrana and then Letterkenny.
Head through and around Glenveagh National Park, and the next point of interest is west of Killybegs. The Slieve League cliffs are some of the highest sea cliffs in Europe, and if the weather's good there will be ice cream available.