March 3, 2013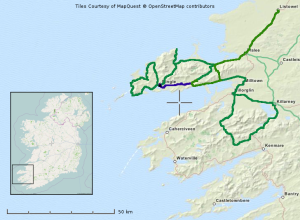 Date: June 2011
Time spent: one weekend
Accommodation: The Dingle Gate Hostel
320km from Dublin, a 4 hour casual ride to possibly the most scenic area in the wildest county of Ireland. We're staying one kilometre to the east of Annascaul, in the Dingle Gate Hostel. Comfortable enough, we have a private en-suite room, there's a fire in the lounge and parking hidden from the road.
The ride here is pretty average, the first 200km on motorway then fairly typical Irish national roads. It's after you hit Tralee that things get interesting. The most direct road from Tralee to Annascaul is a fast bendy road over the mountain ridge of the peninsula.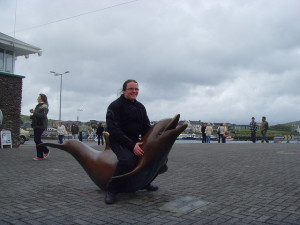 Straight out the next morning into Dingle town, loaded up with an Irish Breakfast then it's a tour around Slea Head. The Blasket Islands inhabited up until the 1950s when they ran out of turf to burn, can be seen just off the coast right before you pass the big Crucifix pointed out to sea.
Much of the road is single track or at best 1½ car width, tourists identified by their new Dublin registered hire cars slowly make their way around the headland and often seem quite surprised as we overtake on the narrowest of roads.
To my great surprise we are soon back in Dingle, this loop around the headland didn't take long at all. Our map must be quite zoomed in, I thought this place was bigger!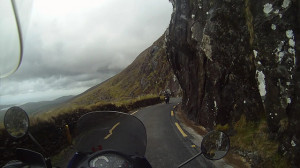 The other classic tourist road on the Dingle Peninsula is the Conor Pass. A nice wide two lane road quicly turns into single carriageway with passing places wedged against the cliff.
Admire the scenary, speed is hard to obtain with the on-coming traffic and slow tourist car drivers.
By lunchtime practically every road in the area has been covered. A coffee in Tralee and then south towards Killarney and the Ring of Kerry…
Straight through Killarney, Ireland's infamous tourist trap – nothing to see here. We're on the Ring of Kerry.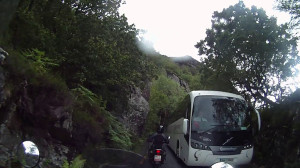 All the tour buses, and there are many of them, travel anti-clockwise around the ring. The roads are too narrow in many parts for two coaches to pass each other. So unless you want to spent most of your time trying to overtake coaches, travel in a clockwise direction.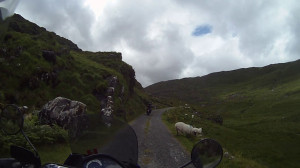 The route is popular and the roads are full with other tourists. Far more fun is to be had inside the ring on the desolate crumbling roads, being mindful of the numerous sheep.
Dinner in Dingle town along the quayside, then back to Dublin the following day. Only a few spots of rain over the weekend and not too much traffic. We should be back to Kerry again soon, there's more to see.