June 23, 2013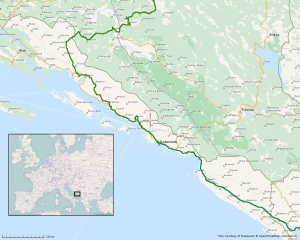 Date: August 2012
Duration: a few hours
The border crossing is tiny. Two portacabins beside each other, one for leaving Bosnia, and one with a solitary Croatian border guard who checks our passports and registration documents, then manually raises the barrier. The border (and "Welcome to Croatia" signs) are passed first, and only a few minutes later do we come upon the lonely portacabins, I was worried at first that we had somehow snuck into the country. We are back in Croatia, this time on the small rural roads.
This is the second time into Croatia on the trip. First we cut through the north-eastern section on our journey from Hungary to Bosnia – we only stopped for petrol and some coffee. Now we cut through the bottom south-western corner on our way to Montenegro.
We ride along the mountain roads, heading to Dubrovnik. These run parallel to the main coastal road congested with the summer tourist traffic.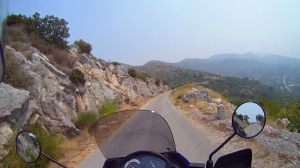 The narrow mountain roads are almost entirely deserted,  high up the side of the mountains, and if it wasn't for the smoke from the burning forests we would have an amazing view of the Adriatic.
We eventually join-up with the main coastal road, meet the tourist traffic and burning summer heat. Sweating under the bike gear we ride into Dubrovnik beside the Old Town, and park up outside the Bikers Café.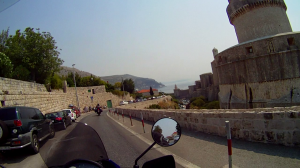 No food but two coffees ordered. No local money in our wallets, however Euro is just as good in Croatia – backing up our previous experience in the rural north-east. Everyone takes our money here.
Caffeinated and a bit cooler from the air conditioned Dubrovnik bikers café, we head for the Bay of Kotor in Montenegro.