March 16, 2013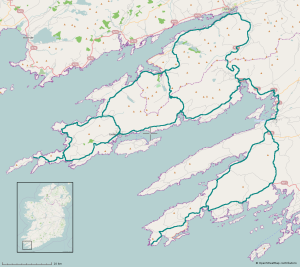 Date: August 2011
Time Spent: 3 days
Accommodation: Hungry Hill Lodge (Hostel)
Possibly the most rugged and least tourist infested area of the south-west Ireland. It's hard to go wrong for scenery anywhere south of the Shannon estuary but some areas suffer from tour buses more than others. This is the best preserved peninsula in the Cork/Kerry area.
Fortunately some of the best roads in the area, like the Healy Pass are twisty single-track roads inaccessible to coaches and timid drivers.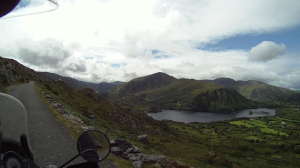 Our paper map of Ireland has a mark for scenic roads, and practically every road in the area is marked. What is more, it is August bank holiday weekend and the roads are quiet – very little traffic except for a few gangs of cyclists.
Even the main road, the N71 from Glengarriff to Kenmare is impressive. As the road rises up to the border between Cork and Kerry, it instead goes through the border. A tunnel roughly cut through the rock, with no lights but water dripping down on to the tarmac of the road – riding blind on a wet surface only to emerge the other end with a 90°turn to avoid heading off a cliff-edge and a 'Welcome to Kerry' sign.
A few hours is all it takes to cover all the roads on the peninsula, ending up at the western tip facing out towards Dursey Island. A cable car spans the channel which separates this mostly uninhabited island from the mainland.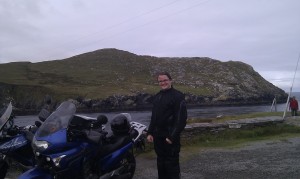 The only slightly significant towns in the area are Castletownbere and Glengarriff. We're staying half-way inbetween in Adrigole at the southern end of the Healy Pass. The Hungry Hill hostel has a campsite and pub attached. We spend the evenings eating and drinking with some other bikers – I do my best to understand their Cork accents.
We passed through Glengarriff a couple of years before, on our very first bike tour. The town is small but has a few cafés, bars and restaurants. It's a good place to pull in for a coffee on our way to Mizen Head – the most southern point of mainland Ireland.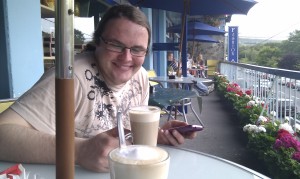 It is almost obligatory when in the area, to go a little further and see the terminus of the Irish landmass. Like most such endpoints, there is very little except for a cafe and somewhere to get a photo taken. At least we can say we were here!